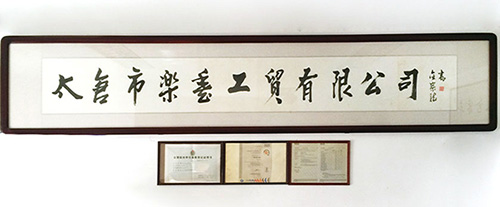 Alljoy Taicang Industry  Co., Ltd was established in 2008 located in Taicang, just 1 hour far from Shanghai by car. We are professional manufacturer and exporter of Monofilament & Natural Bristles. Our factory occupies 11000 m² in Yancheng city.
We have three extruder line and 65 trained employees. We can supply 100000kgs PET/PBT/PP/PE/PVC/PA monofilament every month. We only use virgin resin from Sinopec, BASF, Shenma Nylon, Dupont, etc. High quality raw material guarantee our monofilament excellent performance(Good bend recovery, Good resistance to abrasion、heat、chemical etc). Keep improving technology and Alljoy System guarantee high quality and ISO make quality more steady. Our  Alljoy® Filaments、Canrex® Filaments 、Dorex® Filaments、 Morex® Filaments、 Dorex™ Brushes  suit for all purpose and have ROHS/REACH Certificate from SGS.
Our Chongking / Hankou bristles have good stiffness , we guarantee our bristles tops. Our bristles are popular in India ,UK ,German ,etc
Happiness and Rich is our expectation. Be relied to all clients!